Special Games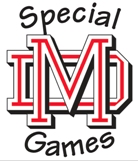 Mater Dei's Special Games
SAVE THE DATE: Mater Dei's 34th Annual Special Games will be held on the MD Campus on Saturday, March 16, 2019.
Special Games Outreach is an annual event at Mater Dei where we host about 250 athletes with special needs. They come for a day of games, track events and fun! Over 500 MD student volunteers will serve as buddies to our athletes, work in game booths or track events and make this a day these athletes won't forget.
Special Games is completely free to our athletes thanks to the many donations we receive.