The Mater Dei Gateway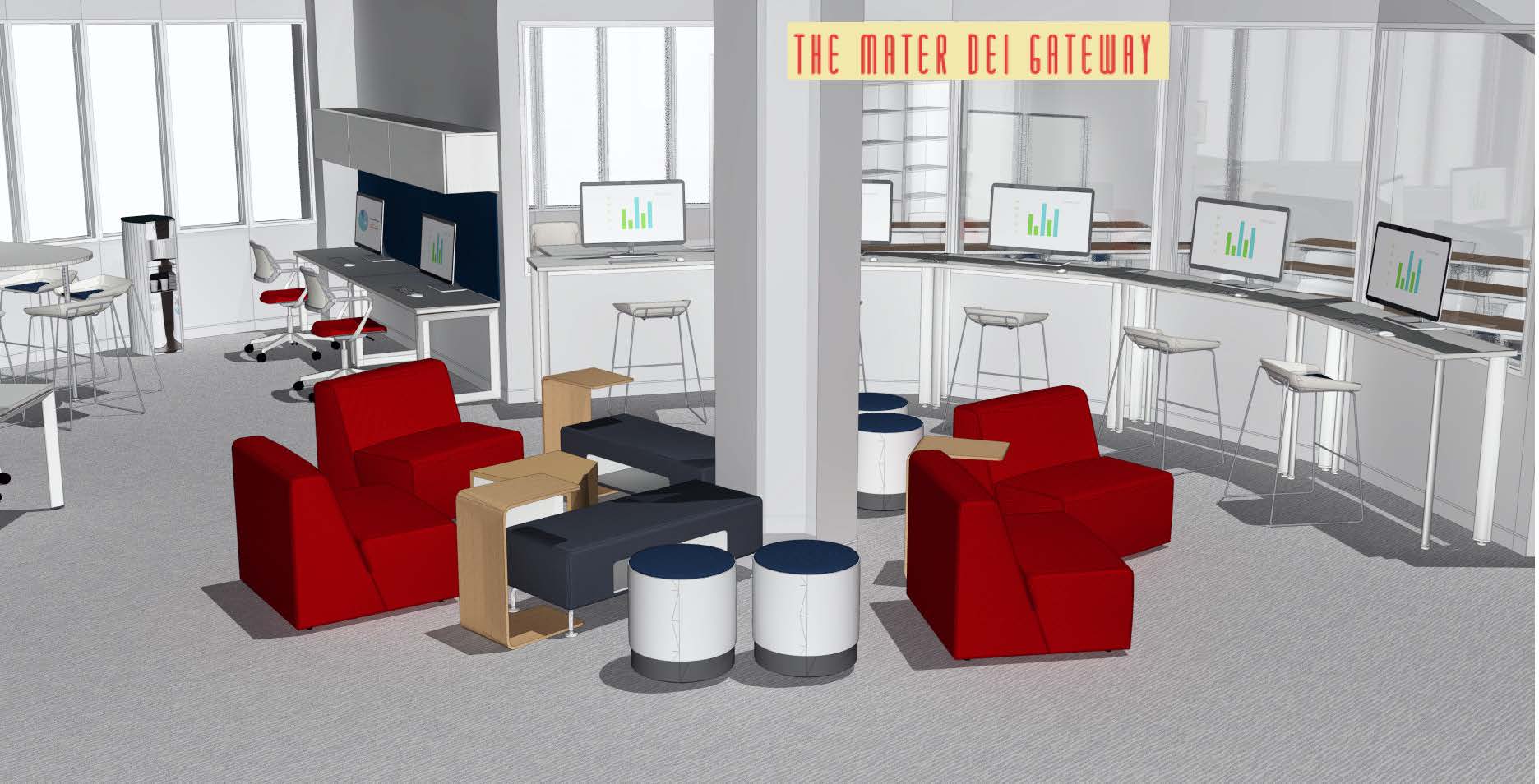 Funds raised at our Off the Vine event will be used to continue to enhance our campus with cutting edge technology, and to initiate a new resource called The Mater Dei Gateway which will serve our students with a bridge between our educational resources, the community and the growing interest on how students spend their time in preparation for college.
The Mater Dei Gateway will have a tremendous positive impact on our student community. Located within the Armona Guidance and Counseling Center, it will house the tools our students need to find helpful workshops, assistance with internships, summer experiences, alumni connections, mentors and other opportunities to connect with the real world. It is envisioned as a likely hub where students can meet, learn and explore resources in a relaxed, friendly atmosphere.
Guidance Counselors
Mrs. Kellie Bauer Director of Guidance & Counseling, AP Coordinator,Outreach Concern Liaison kbauer@materdei.org / 714.850.9567
Mr. Arthur Aragon NHS Coordinator / aaragon@materdei.org / 714.850.9562
Ms. Sasha Lo College Test Preparation Coordinator / slo@materdei.org / 714.850.6727
Ms. Mary McElroy NCAA Coordinator / mmcelroy@materdei.org / 714.850.9568
Mrs. Vanessa Peña-Gautier Master Schedule Assistant / vpena@materdei.org / 714.850.9564
Ms. Joy Ringo CSF Coordinator / jringo@materdei.org / 714.850.9563
Mrs. Angie Young College & Career Events Coordinator / ayoung@materdei.org / 714.850.9566
Administrative Assistant
Ms. Marisa Zavala / mzavala@materdei.org / 714.850.9565
| | | |
| --- | --- | --- |
| | Alpha Split | |
| 9th | | 10th - 12th |
| A | Young | A - C |
| B - D | Lo | D - G |
| | Bauer | H - J |
| E - G | Ringo | K - M |
| H - Mc | Aragon | N - P |
| Me - R | McElroy | Q - S |
| S - Z | Peña-Gautier | T - Z |
Parents
The Guidance Counselors are happy to meet with you, walk ins are welcome however it is preferred that you have an appointment. All counselors schedule their own appointments via email. Please allow 24-48 hours for a response. Thank you!
Mission Statement
The Mater Dei Counseling Staff is dedicated to nurturing and fostering the intellectual, spiritual and emotional attributes found in each of our students. Our office maintains an open door policy as students are made to feel both welcomed and treasured. It is our goal to assist each student in recognizing their individual talents as they progress toward their collegiate years and emerge as well-rounded young adults who add to the intellectual, social and philanthropic aspects of our society.